Porsche Design Tower Miami, Oceanfront Condos in Sunny Isles Beach, Florida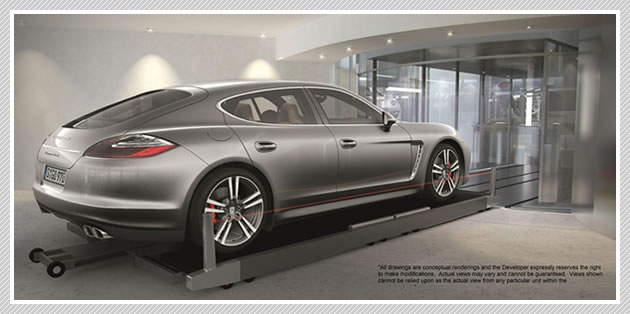 Porsche Design Tower Miami Is Now Taking Reservations
CONTACT US TODAY 305-209-5508 For Special VIP Pricing!
Location:

18555 Collins Avenue, Sunny Isles Beach, FL 33160




About Porsche Design Tower Miami Residences
Many real estate developments may assure something about is "uniqueness" or its "originality". But if you've seen everything as far as real estate is concerned in the Miami area and are still waiting for an indisputable distinctive, you may have welcomed the announcement of the Porsche Design waterfront condominium at Collins Avenue, in Sunny Isles Beach, to be launched at 2017.
Its main groundbreaking feature at for what Miami's standards are used to, is the private garage in the sky amenity, a way to highlight Porsche's perspective on high lifestyle standards with its car elevators. This high end project is reserved to demanding residents and for those who want to experience one truly incomparable condominium. Of course, "state of the art" features will be redefined after the Porsche Design launches!
The Porsche Design is edgy, and it is the first inception of the Germany-based Porsche Design Group into the development of a residential real estate. The announcement of this Porsche tower has had the expected success and more, and some of its 132 units are already take by Porsche Design Group's VIP customers and personalities. Unit's prices start from $4.8 million!
Everything is thought around the main role of the automobile as a way to represent functionality and art in their utter expressions. At the Porsche Design Tower condos, residents will be able to appreciate their automobiles thru glass garage windows from the interior and comfort of their homes. The services conceived at the Porsche Tower also bear in mind the fact that most of its residents live through the globe, and will dispose a specialized Car Concierge that will take care of every vehicle at resident's appeal, only a phone call away.
Units at the Porsche Design Tower include floor-to-ceiling hurricane resistant glass windows, and beautiful balconies that take advantage of the beautiful Intracoastal and Atlantic Ocean views. Condos for sale are available! This pre-construction project will for sure keep us awake in wait for more details on its characteristics, but be sure you can contact us for further personalized information on this outstanding new luxury condo!
Lifestyle Amenities
No detail is spared in the Tower's three-story lobby where a glass-enclosed car observatory acts as its striking centrepiece. Designed with the finest finishes and elaborate furnishings sourced from around the world, the lobby features an attentive 24-hour concierge, security and valet service.
A private restaurant with outdoor seating and a lounge bar overlooking the ocean, coupled with private wine lockers, further the all-inclusive environment where residents' every need are accounted for.
An innovatively designed sunset terrace complemented with twin over-sized spa tubs showcases majestic twilight views and the impressive glass-enclosed car observatory which spans eight floors high.
Spa/Fitness Center
Entertainment Room
Pool / Beach
An elevated, lushly landscaped oceanfront terrace features a heated swimming pool with food and beverage service. Residents can take full advantage of the Tower's idyllic setting with beachside lounges located steps from the ocean.
Building Features
INTERIORS
High speed passenger elevators transport residents to private landings and a new paradigm for living.
Exit the elevator directly into your apartment and you are immediately embraced by breathtaking panoramic views. Residents will experience interiors that are in harmony with the regional landscape and natural environment which lies just outside their unparalleled sky residence.
All residential lay-outs feature the finest European design finishes, along with exquisite European cabinetry. Superior elements in the kitchens and baths include Poggenpohl kitchens, Dornbracht fixtures and Miele appliances; as well as Toto automatic toilets featuring integrated bidet functions within the master bedrooms.
The soaring two story units feature private interior elevators, a distinctive detail that further enhances the fusion between design and function.
EXTERIORS
Typically reserved for only the most elite of penthouses, Porsche Design Tower Miami affords its residents a new dimension in outdoor living. Most residences feature balconies from 800 to over 1,600 square feet, allowing for a true outdoor lifestyle, in complete privacy.
Almost all of the balconies are equipped with private pools and summer kitchens, creating a luxurious outdoor living environment which enables residents to enjoy relaxing pleasures 365 days a year.
These expansive, functional exterior terraces showcase Porsche Design Tower's maximization of living space.
An experience playing with functionality and emotion guaranteed to exceed your every desire.
CAR ELEVATOR
Unsurpassed technological innovation is your entry key.
Upon being scanned at ground level, drive your vehicle onto a 'turntable' and turn off the engine. The turntable aligns the vehicle with a car lift and as the lift opens, a robotic arm pulls the vehicle into one of three glass car lifts. Enjoy your quick, exhilarating ride home.
The utmost level of privacy is afforded. You are in control. Your vehicle is self-accessible, allowing you the freedom of entry and departure without notice. A level of privacy never afforded before.
And although the automobile lift is one of the main features in the high rise condominium, valet is at your disposal. You may opt to have your vehicle transported in the car lift, while you travel in a passenger-only elevator directly to your home.
GLASS GARAGE WINDOW
Functional Art
The Porsche Design Tower team agrees that the development of the automobile is an example of art meeting function. We anticipate that our buyers will feel the same way.
And to that end, nowhere in the world does art meet function in the same way. In most units, a glass window between the living quarters and the sky garage allows residents to enjoy viewing their vehicles from the comfort of their homes.
Preserving your mobile art is a phone call away. Recognizing that most residents have homes throughout the globe, you can rest assured of your vehicle's care. A specialized Car Concierge will assist with regular maintenance, tire rotations, washing, and other services. We hold our automobiles in as high regard as our homes.
Floor Plans & Additional Photos

Price List |
FOR MORE INFORMATION CALL TODAY!
Price list for this property is currently available upon request. Call now for updated pricing information and current offers or send me an email to be added to our VIP emailing list and request a fact sheet and pricing list for this new property.

Disclaimer: ORAL REPRESENTATIONS CANNOT BE RELIED UPON AS CORRECTLY STATING REPRESENTATIONS OF THE DEVELOPER. FOR CORRECT REPRESENTATIONS, MAKE REFERENCE TO THE BROCHURE AND TO THE DOCUMENTS REQUIRED BY SECTION 718.503, FLORIDA STATUES TO BE FURNISHED BY A DEVELOPER TO A BUYER OR LESSEE. OBTAIN THE PROPERTY REPORT REQUIRED BY FEDERAL LAW AND READ IT BEFORE SIGNING ANYTHING. NO FEDERAL AGENCY HAS JUDGED THE MERITS OR VALUE, IF ANY, OF THIS PROPERTY
THE INFORMATION PROVIDED, INCLUDING PRICING, IS SOLELY FOR INFORMATIONAL PURPOSES, AND IS SUBJECT TO CHANGE WITHOUT NOTICE. ORAL REPRESENTATIONS CANNOT BE RELIED UPON AS CORRECTLY STATING THE REPRESENTATIONS OF THE DEVELOPER. FOR CORRECT REPRESENTATIONS, REFERENCE SHOULD BE MADE TO THE DOCUMENTS REQUIRED BY SECTION 718.503, FLORIDA STATUTES, TO BE FURNISHED BY A DEVELOPER TO A BUYER OR LESSEE.
This offering is made only by the Prospectus for the Condominium and no statement should be relied upon if not made in the Prospectus. This is not intended to be an offer to sell nor a solicitation of offers to buy real estate to residents of CT, ID, NJ, NY and OR, unless registered or exemptions are available, or in any other jurisdiction where prohibited by law, and your eligibility for purchase will depend upon your state of residency.